THANK YOU, Baltimore audiences, for choosing Bawdy Shop Burlesque's "Goin' Downee Oshun!" as runner up for
Best Play or Performance in Baltimore Magazine's Best of Baltimore!
Visit our gallery or enjoy the Baltimore City Paper's oh-so-NSFW pictures from the show.
It was a sweltering holiday weekend in Charm City and the women of Bawdy Shop Burlesque needed a break. But where was a broke Bawlmer gal to go? Ocean City, of course!
Fishermen, tourists, townies, ponies and even pirates were part of the Bawdies' beach adventure...but Sunny Sighed had a "seacret"!
Bawdy Shop Burlesque debuted at The Ottobar on August 30 with this original, fully scripted burlesque play and musical!
With striptease, song and dance, it was a vacation to remember!
See you again soon!
Bawdy Shop Burlesque was proud to have Yelp Baltimore as the premier sponsor of Goin' Downee Oshun!
Follow @YelpBaltimore, and get the app today!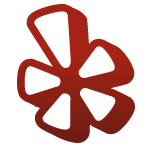 Fully scripted Baltimore burlesque show "Goin' Downee Oshun!" by Bawdy Shop Burlesque